What To Wear To Austin City Limits Music Festival
Wondering what to wear to ACL Fest? This guide is for you! After securing your tickets, choosing what to wear to a music festival is the next most important question! Granted, you'll need to think about what the weather is like in Austin, and of course what you should or shouldn't wear to ACL Fest in regards to the temps, terrain, and just practical stuff like how much you'll be walking. But ultimately you just want to look cute (y'know?) and finding the ultimate festival outfit idea is the end game! 
Ok, a bit about the festival: the renowned Austin City Limits (or ACL) Music Festival occurs annually, so it's always coming up again! It's a well-known music festival in Austin Texas that was originally inspired by the PBS show. ACL Fest features a diverse group or lineup of music performances for two consecutive three-day weekends at Zilker Park. The concerts take place on various stages scattered across the park from dawn to dusk on Friday, Saturday, and Sunday. 
ACL Music Festival typically features 9 stages where musicians perform in more than 100 music acts across a variety of musical genres. No matter what type of music you're interested in, you'll probably find it at ACL Fest! Rock, indie, country, folk, electronic, and hip-hop music are a few of the musical genres that are typically performed. It's definitely not an exaggeration to say that this annual music fest helped Austin grow in popularity in the United States. 
What To Wear To Austin City Limits Music Festival
With Austin City Limits Music Festival just around the corner, you might be wondering what should be the best outfits for a music festival. For advice on what to wear to ACL Festival this year, including recommendations for all genders, this guide is here to help you out and clear up any confusion about Austin weather, how much you'll be walking at ACL fest, etc. We've rounded up some of the best festival outfit ideas for anyone attending ACL Fest.
Don't be deceived by the fact that the ACL Festival is technically in the "fall season" of Austin. Ha!
It's still hot hot hot in October when Austin City Limits occurs. So, what should you wear to ACL Festival? Well, your best bet is to wear clothes with cotton, linen, rayon, or any fabrics that are best for keeping you cool in sweaty and hot settings.
For instance, you can wear your shortest shorts (seriously..people wear the shortest shorty shorts, or sometimes no shorts at all and just swimsuit bottoms) and a crop top. But if you don't want to show that much skin, other good options are mesh or breathable fabrics, thin wide-legged pants, and a breezy buttoned top. Or anything that you think is breathable enough and won't make you too sweaty. 
Outfit Ideas For Girls At ACL Festival
Every year, one of the best go-to festival outfit ideas for ladies is a mini skirt or pair of biker shorts with a bralette or sleeveless top. There's something about a high-waisted short paired with a boho bralette that looks so "music festival." Pair it with a fun hat or hair accessory and some cute sunglasses, and you're ready to go.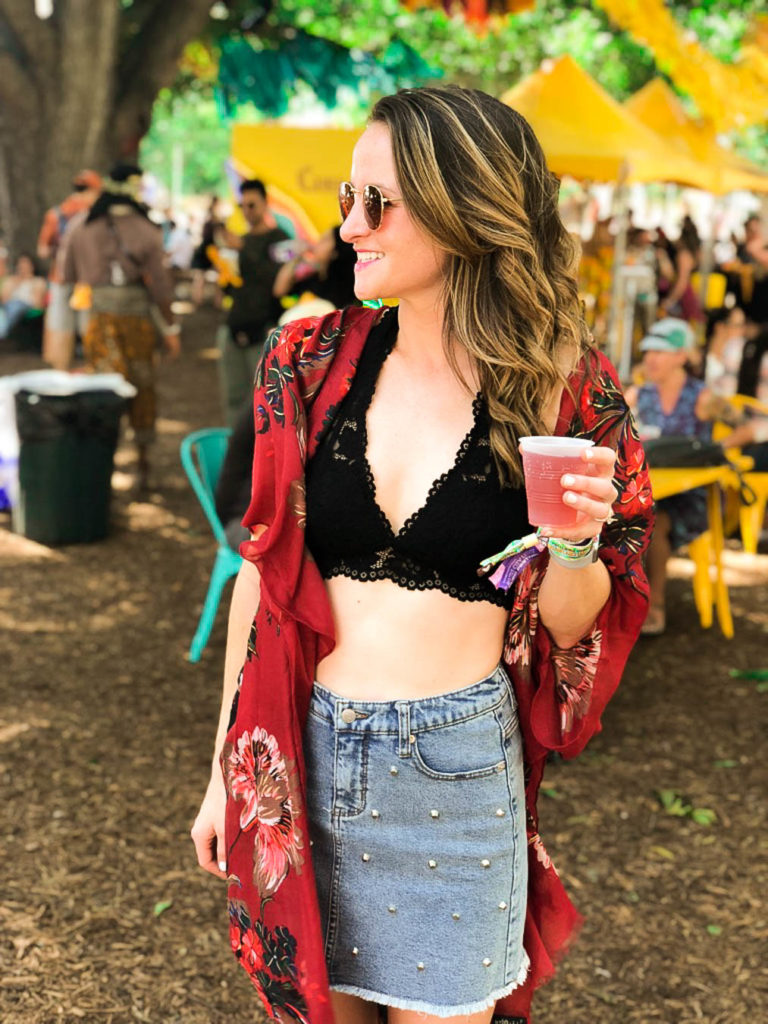 Another popular idea, year after year, is a cute flowy dress. Why? They're comfy and easy to wear.
Dresses, sleeveless tops, shorts, and mini skirts never go out of style, so you'll always have a few odds and ends in your closet that are ready to go.
Also, keep in mind that festival outfits don't really have to make sense. Just grab two contrasting pieces of clothing and don't worry about things matching.
Oh, and if you're looking for new dresses, try getting something with fringe or some flow to it. And then add some jewelry, glitter tattoos, or funky sunglasses to spice up your outfit. Again…nothing has to make sense. The motto in this town is Keep Austin Weird, so you're just doing your part. 
>>Note: overalls, rompers, jumpsuits, and basically any one-piece outfit (besides dresses) make using the porta-potty really difficult. Ask me how I know...<<
Best Shoes To Wear To Austin City Limits For Girls:
At Austin City Limits, your feet will be walking around in dirt and grass all day, so you should prioritize footwear that will make you comfortable. For the best festival footwear for girls, a pair of comfy street sneakers (or running shoes if you want to REALLY prioritize comfort) or some well-supported cool sandals are the best options. 
Of course, a pair of cowboy boots can give your outfit Texas flair vibes. Boots look really cute at Austin City Limits Music Festival but keep in mind that they can get pretty hot.
Whatever you choose, always opt for durable footwear. The stages at opposite ends of the festival are really far apart, so you'll be walking several miles throughout the day. 
Outfit Ideas For Guys At ACL Festival
If you're one of the guys wondering what to wear to the ACL Festival, you should try to go for statement shirts, shirts with bold prints, or classic solid pieces. And then just add some fun accessories, like a unique hat, some funny sunglasses, whatever. (We'll say this yet again…the weirder the better.) 
You'll want to wear lightweight clothing since it's so hot in Austin. And bright colors and eye-catching patterns are really fun to help you stand out in a crowd. 
Check out the guy in the picture below: colorful shirt, patriotic pants, holiday socks, baseball cap. He's living his best ACL Fest life.
Best Shoes To Wear To Austin City Limits For Guys
For guys, the most popular options that you see at ACL Festival are closed-toe shoes or beat-up sneakers, so those are probably the best shoes to wear. You'll be standing for hours in packed dirt and grass, walking into porta-potties, etc., so don't wear your newest/whitest sneakers. 
Keep in mind that there's not a lot of sitting at ACL, so choosing comfortable shoes is the name of the game. And if you're a sandals sort of a guy, popular all-terrain sandals like Chaco, Teva, and Reef are all solid options.
Clothes You Should Definitely Bring to ACL Festival
Above everything else, you should dress appropriately for Austin weather. We can't say this enough: it's not worth it to wear a crazy fun music festival outfit that's wayyyy too hot when it's 95 degrees outside. For real: even during the fall, it is still so hot in Austin from the hours of 1 - 6 pm. The best outfits for a music festival are comfy clothes. 
Go for cute AND comfortable standard summer clothes, like sleeveless shirts, button shirts, cropped tops, little dresses, and shorts. It's best to wear light and breathable clothes so you don't overheat during the day. But you might want to bring a jacket or sweater if you'll be sticking around for nighttime sets. It cools off quite a bit when the sun sets.
Also, if you want an easy way to flair up your festival outfit, get some fun hats or caps with brims to shade your face and neck. (You'll be so happy to get that shade in the middle of the day!) If you want, you can bring handheld umbrellas. Sun protection is also an important part of your festival preparation because you'll be standing out in the bright Texas sun for hours on end. Note that non-aerosol sunscreen is permitted inside the festival, so you'll probably want to bring some of that, regardless of your hat choices. 
Clothes You Should Definitely NOT Bring to ACL Festival
So, we mentioned above some of the best festival outfit ideas. Now we're going to share some clothes you should NOT wear or items you should NOT bring to the music fest.
Since it can get pretty muddy, sweaty, and dirty, (especially if it's a rainy year at the ACL festival), wearing really nice designer clothes or new shoes that you don't want to get dirty are not a good idea. Also, wearing uncomfortable clothes like rompers, overalls, (too difficult when you're in the porta potty bathrooms!!) or thick clothes should be avoided. You're going to party and have a great time, so you'll probably get really sweaty as the festival goes on. Best not to wear non-breathable fabrics like nylon, latex, or polyester. 
For footwear, veteran festival-goers will always suggest not wearing uncomfortable or high-heeled shoes as you will stand there for long hours. Wearing a brand new pair of shoes is also not advisable, because you don't want to get any blisters on your first day of the festival. Again, you'll be walking miles and miles every single day, and it's a 3-day festival. Pace yourself.
For accessories, wearing some is fun, but wearing too many heavy or bulky accessories isn't the best thing to do. Choose some fun, lightweight accessories that won't annoy you throughout the day. Oh, and be sure your bag is 6 X 9 or smaller. Otherwise, it needs to be a clear bag that's 12 X 6 X 12 or smaller. You can read ACL's formal bag policy here. 
All in all, don't sacrifice comfort for style. Of COURSE, you can get both of them at the same time, but if you're thinking of wearing something that looks really cute but it's really uncomfortable, this is your sign to reconsider. If you really want to enjoy ACL Festival, your top priority when choosing a festival outfit is comfortability. Wearing and bringing uncomfy clothes and accessories zaps away lots of the fun. 
So, enjoy the festival, wear some comfy festival attire, dress for hot weather, and soak up the fun Austin vibes! 
ACL Fest is quickly approaching, and there are lots of things you should know about…
Read More