We're rounding up some of the most beautiful spas in Austin! If you've been under stress lately, try taking some "me time" and go enjoy a facial or a massage. There are lots of fantastic options here in ATX that offer online booking, so it's easier than ever to reserve a massage or all-day package at one of these lovely spas in Austin. 
Try a deep tissue massage if you really want to work out the kinks, or maybe just relax with a special CBD treatment or hot stone massage. There are massage packages in Austin for pregnant women, couples, and even some kid-friendly options! Whatever you need to feel rested and rejuvenated, you can probably find it at one of these day spas.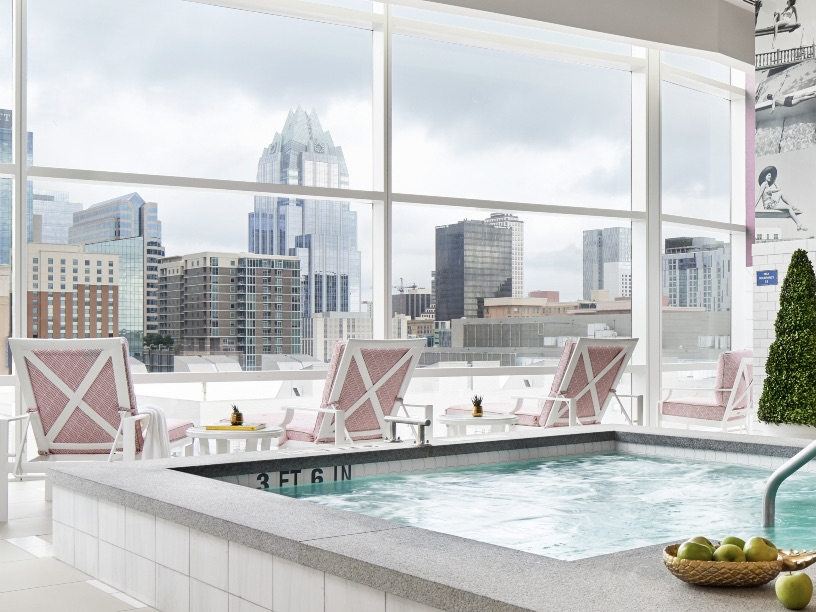 With three locations in Austin (south, central, and north) and a few awards under their belt (Austin Monthly called it the best spa in Austin), Viva Day is a great spot to book a massage or a facial in Austin. All of the locations are calming, professional, luxurious places to spend an afternoon, but the Domain NORTHSIDE is especially modern and beautiful. 
Their full-service med spa offers botox, lip and cheek fillers, photofacials, body contouring, and more. You can book a consultation with one of their professionals to talk about your specific needs and budget. Speaking of cost…Viva Day Spa has some of the best spa packages. Get a discount on that botox or book a full Mother's Day spa package when you take advantage of their specials! 
From waxing and sugaring to Swedish massages and a full menu of nail care options, Viva Day Spa has something for everyone. 
WEBSITE | 3 locations
The AWAY spa is located right in the heart of downtown at the W Austin. This is a fun spot to book an overnight hotel stay paired with a spa getaway…and then wrap up the weekend with a relaxing afternoon on their rooftop pool.
AWAY specializes in a modern, fun culture and a social environment. It's a slightly more casual setting than some of the other spas in Austin, so it's a chill place to enjoy a girls weekend getaway or a solo escape to downtown Austin when you just want to have fun. 
Enjoy their complimentary 3-hour valet in downtown Austin, and then try their "Hurt So Good" 90-minute deep tissue massage, or a "SOCO Cupping" detox cupping therapy to increase circulation and reduce inflammation. 
AWAY has a full menu of massages, body treatments, facials, manicures, and add-ons like a peptide boost or a collagen eye mask. You can also book waxing and brow tints.
WEBSITE | 200 Lavaca St, Austin, TX 78701
3. Lakeway Resort And Spa
Want to visit a spa near Austin that feels like it's far away? Book a spa day at Lakeway Resort and Spa, a modern 4-star hotel and spa located about 20 miles west of Austin. It overlooks Lake Travis so you can enjoy pristine hill country views during your romantic getaway or solo escape. 
They have seven treatment rooms, as well as lounges, a sauna, couples showers, and a small balcony that overlooks the lake. Book a therapeutic massage that caters to your specific needs, like a gentle lavender massage, a prenatal massage, or some deep-tissue work to ease any pain you're experiencing. 
Their facials feature products from the fabulous Skinceuticals line (!!) with everything from pro-glo, anti-acne, and peels to help reduce fine lines. 
This really is such a unique spa in Austin because of the fun location.
WEBSITE | 101 Lakeway Dr, Lakeway, TX 78734
Milk + Honey wins for their indulgent spa packages, aesthetically pleasing waiting rooms, and exceptional therapists. These design-forward spas started first in Austin, but have now expanded to Houston, Fort Worth, and L.A. 
Go to Milk + Honey if you want an absolutely phenomenal experience from start to finish. Everything part of your day, from the calming scents in the waiting room to the friendly faces who greet you in the lobby to the highly trained therapists and estheticians is next-level. Milk + Honey offers a full range of spa services, like their signature massage (try it with the foot massage enhancement!), couples massage, and a deep tissue massage to provide therapeutic relief from aches and pains. 
It's also a full medspa, meaning you can get laser skin treatment, dermaplaning, injectables and fillers, and other aesthetic treatments. They work with a renowned dermatologist for all of these minimally invasive procedures. Or, if you just want a hair/nail day, Milk + Honey offers that too. Book a pedicure or maybe a full hair cut/color session before your massage! They have a convenient Downtown Austin spa location that offer complimentary parking
One final fun perk of Milk + Honey: they have their own line of products, and they smell amaaaazing. Plan for a bit of extra time after your massage to enjoy the steam showers in the locker room and those yummy Milk + Honey products, and maybe buy one in the lobby on your way out the door to bring the spa back to your home.
WEBSITE | 100A Guadalupe St, Austin, TX 78701
5. Mokara Spa at Omni Barton Creek Resort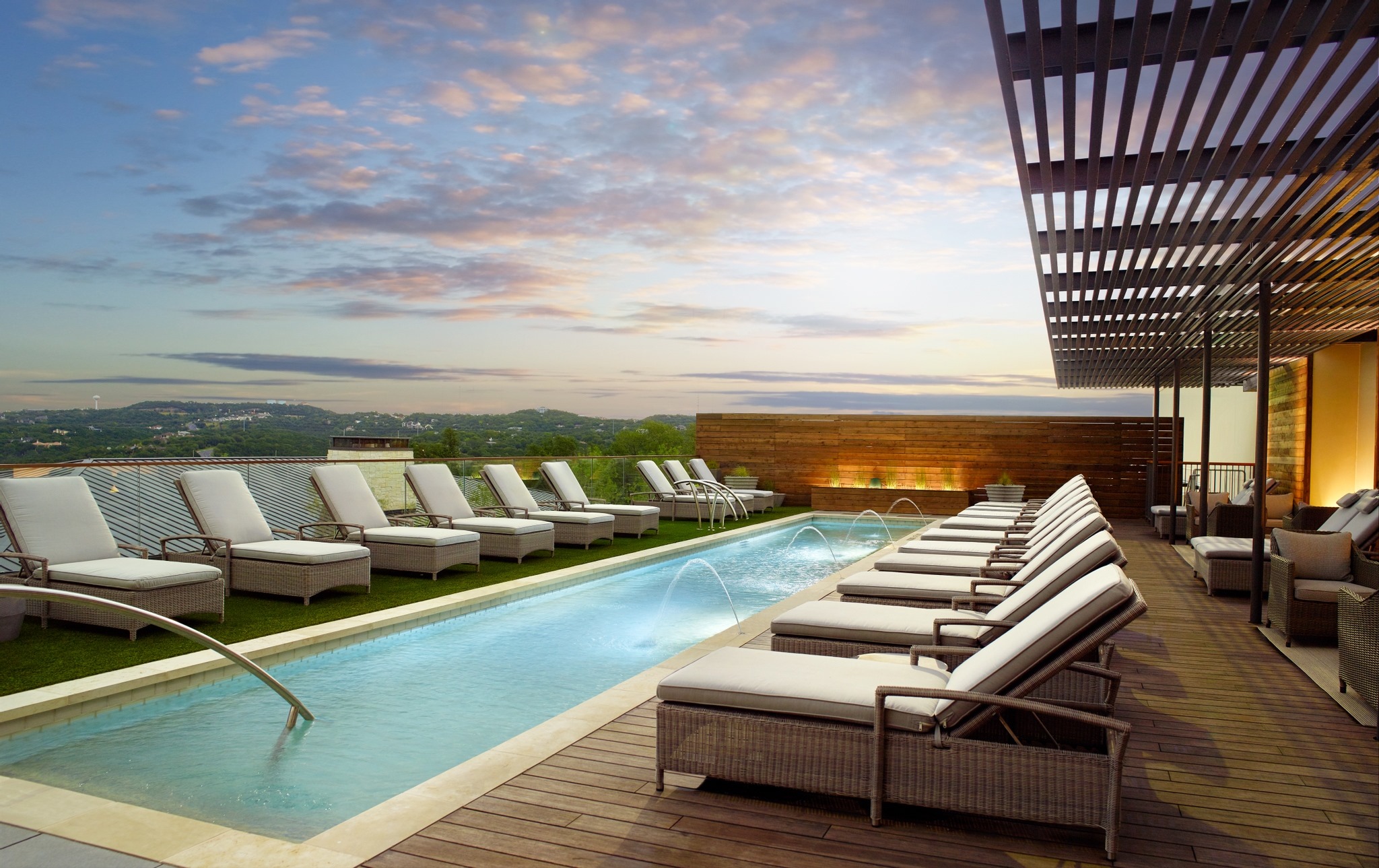 Here's another spa getaway in Austin that's worth booking for an entire weekend, if you can get away! The Omni Barton Creek is a luxury resort in Austin that recently underwent a massive renovation, and the world-class spa benefited from it! This 13,000-sq-ft oasis has a private rooftop pool that's only for spa patrons so you can enjoy the Texas Hill Country views. Spa guests also get to take advantage of the steam room, sauna, indoor heated whirlpool, private locker rooms, and the calming relaxation lounge. 
Similarly to the Lakeway Resort and Spa, if you want to feel like you've escaped to a different city (without actually leaving Austin…), book a weekend visit to Omni Barton Creek and reserve a day at the spa. 
Choose from a full line of facials, massages, and body treatments…but one of the best ways to enjoy this Austin spa (especially if you're just visiting for the day and not staying overnight) is to book one of their 4-hour spa packages, and then lounge by the private pool afterward.
WEBSITE | 8212 Barton Club Dr, Austin, TX 78735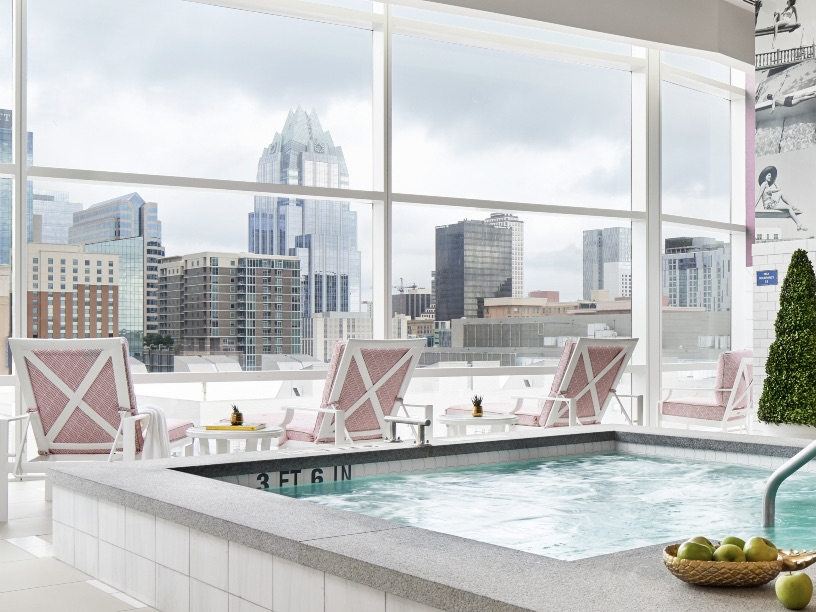 This luxury spa in the heart of downtown has floor-to-ceiling windows overlooking the Austin skyline, nine treatment rooms, private locker rooms, saline soaking pools, and a European dry heat sauna.
The spa menu is small, but a personalize 80-minute massage or an oxygen facial paired with a luxe manicure is the perfect addition to your glamorous stay at the Fairmont Hotel in Downtown Austin. 
WEBSITE |  101 Red River St f6, Austin, TX 78701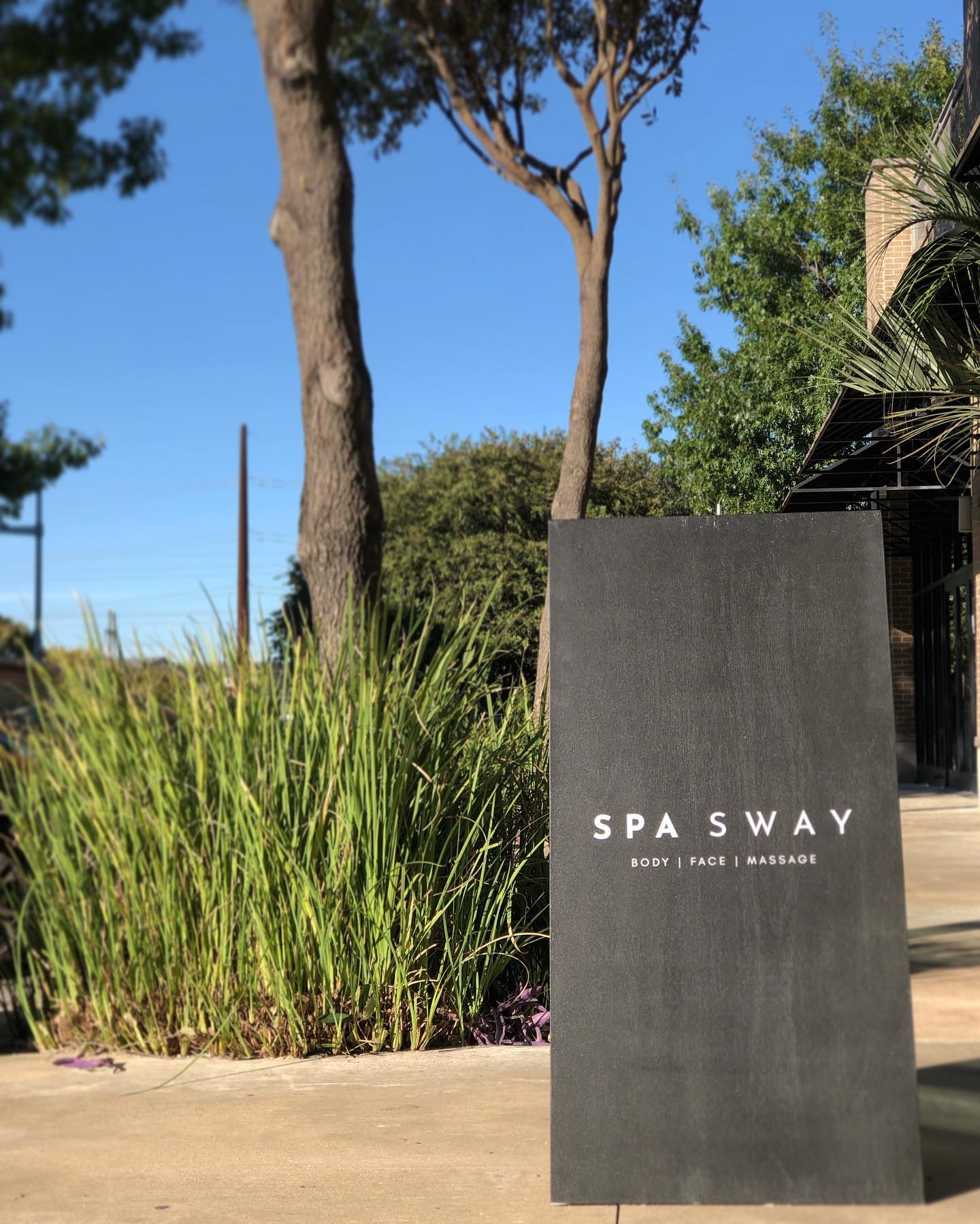 This beautiful, peaceful day spa in north Austin is one of our favorites for their transformative full-body treatments, luxurious facials, and expert massages. It has a wholesome, serene vibe that just makes you feel invigorated. The staff is so kind, and they really make you feel like a VIP.
Gift "the manly retreat" to your favorite dude who deserves a day of pampering, or indulge in the 3-hour "Perfect Day Away" package, which features an 80-minute massage, an 80-minute anti-aging facial, a tension-relieving Mint Scalp Massage, anti-aging eye repair, Ginger Sorbet hand hydration, whipped honey foot scrub, and a hot towel treatment. 
By the way, Spa Sway offers a membership package for those of you who are serious about upping your wellness game. Receive discounts, specials, and recurring treatments.
WEBSITE |  11011 Domain Dr #124, Austin, TX 78758
8. Miravel Austin Resort and Spa
Ever wanted to get away for a wellness weekend? Miravel Austin is a 220-acre upscale all-inclusive wellness retreat. Their Life in Balnce Spa draws inspiration from the Balcones Canyonland Reserve, where the spa is located. Miravel is all about creating a life in balance, so some of  these spa treatments might be a bit more woo-woo than what you'll find at a typical day spa. 
For instance, their Ayurveda Treatment is a holistic therapy that helps to cultivate your inner sense of balance. You'll start with a warm, herbal oil massage to release toxins and increase circulation, then a marma point therapy to balance energy. Next, Shirodhara, a soothing stream of herbal oil, is  poured over the forehead to calm the nervous system. Your treatment concludes with your body cocooned in a warm aromatic wrap while you receive a scalp massage. 
If you want to focus more on whole-body wellness and balance, Miravel is the best spa is Austin for that. 
WEBSITE | 13500 FM2769, Austin, TX 78726
If you're looking to book recurring treatments, Spavia is an excellent spa in Austin for regular massages. They offer high-level massages at moderate prices. While it is a day spa with a full menu (facials, body treatments, beauty, and more), the masseuses are outstanding and can help provide calm, healing, ease from tension, or whatever you need from your massage. 
The membership program is definitely the way to go. For as low as $69, you can get a massage every month. Or, switch out the massage for another treatment like a facial, spray tan, or lash refill. 
Of course, if you just want to enjoy a day at the spa, Spavia offers 4-hour spa packages that include refreshments, massages, wraps, and facials for an entirely indulgent experience. 
Want to book a spa day for your birthday, bachelorette weekend, or bridal party? They offer Spalebrations for groups of 4+! Check out the website for all the details.
WEBSITE | 6701 Burnet Rd b3, Austin, TX 78757
Want to get away for a full day without having to stay overnight? Book a full (or half) day away at this fun resort and spa located on Lake Austin. You get to choose two 50-minute treatments + enjoy lunch at their delicious cafe. Choose from aromatherapy facial, couples massage, swedish massage, vitamin C anti-aging facial, a lavender scrub, a rejuvenating recovery massage, and others. 
Be sure to save enough time to enjoy the pool and lunch on the patio!
WEBSITE | 1705 S Quinlan Park Rd, Austin, TX 78732
A Texas day spa with locations in Austin, San Antonio, Dallas (+ more!), Hiatus Spa + Retreat is a wellness spa in the heart of downtown. They recently renovated their interior so it's more relaxing than ever before. 
Hiatus is for the city dweller who wants to incorporate wellness as a regular part of her life. After a fun nigh tout on the town, enjoy a massage to detox, increase circulation, and recenter. Their monthly wellness program is quite a bargain with treatments starting at just $69 per month (much more cost-effective than booking occasional treatments.)
WEBSITE | 1611 W 5th St #155, Austin, TX 78703
A Texas day spa with locations in Austin, San Antonio, Dallas (+ more!), Hiatus Spa + Retreat is a wellness spa in the heart of downtown. They recently renovated their interior so it's more relaxing than ever before. 
Hiatus is for the city dweller who wants to incorporate wellness as a regular part of her life. After a fun night out on the town, enjoy a massage to detox, increase circulation, and recenter. Their monthly wellness program is quite a bargain with treatments starting at just $69 per month (much more cost-effective than booking occasional treatments.)
WEBSITE | 1611 W 5th St #155, Austin, TX 78703