Where To Brunch In Austin With A Big Group
You're visiting Austin with a big group for a bachelorette party or a big birthday weekend. You want to know where you can A) enjoy a boozy brunch with a big group that is B) preferably somewhere near downtown Austin or Rainey Street so you can spend the afternoon bar-hopping around. Well, here are some ideas for group brunch spots in Austin! 
*A quick note: pretty much any brunch spot is a good place for a group, so long as you plan ahead. Most restaurants can host a group of 12 people. Pick up the phone and call them 4 weeks in advance, and ask if they can host your group. Most of the time they'll say yes! (After all, restaurants want to make money…) They'll often be able to push multiple tables together for the group. Sometimes there are rules like a mandatory gratuity, or prix fixe menu.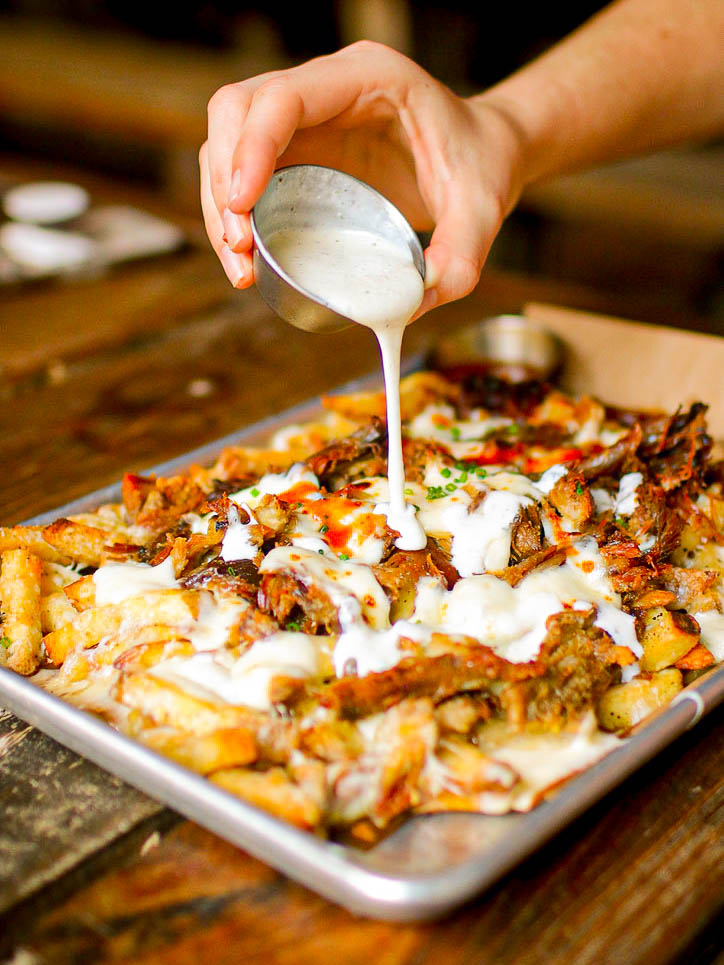 On to the good stuff! Here are some amazing boozy brunches in Austin. They're all perfect places to bring a big group of people.
Where To Brunch In Austin With A Big Group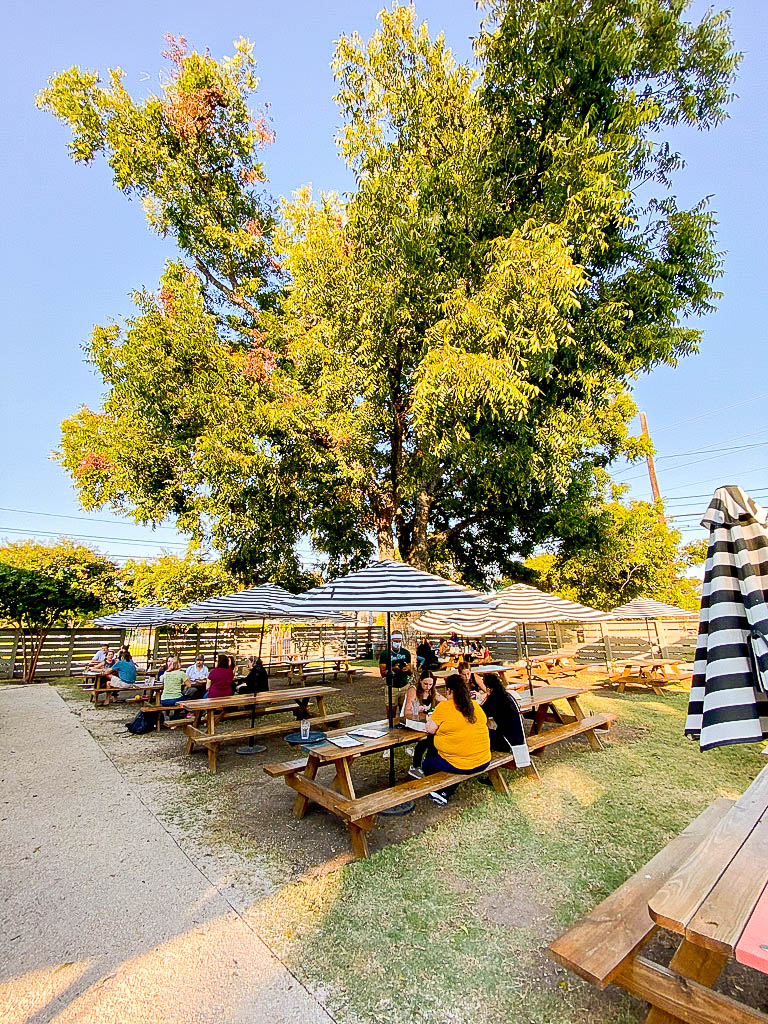 It's everything you need for your big boozy group brunch in Austin: 15,000 sq ft of outdoor space, brunch cocktails (they have a great bloody mary!), a delicious menu (try the Croque madame), and outdoor games like ping pong and Jenga. There are lots of covered picnic tables, and it's pet friendly.
You could totally walk here from downtown Austin (it would take about 25 minutes), or it's a very quick ride share. After your group brunch, Easy Tiger East is steps away from some of the best bars in Austin on E 6th Street: Liberty Bar or White Horse for dive bars, Lolo Natural wine bar, Lazarus Brewing or Zilker Brewing, and of course the iconic Whisler's cocktail bar.
2. Gabriela's South Austin
Brunch + margaritas...the combo you didn't know you needed. While Gabriela's downtown is a convenient (and fantastic!) brunch spot in Austin for your boozy brunch needs, it's small and you can wait a while for a big group to be seated. If quick seating is more important than location, try their new(er) south location. It has a huge indoor/outdoor area and can easily seat large parties for brunch.
Their tipsy French toast and that delicious chilaquiles are two crowd favorites, but the real winners? The ooey-gooey choriqueso and giant margaritas.
3. Better Half Coffee and Cocktails
This is for sure one of the BEST spots in Austin for a delicious group brunch. They've been called the restaurant of the year by Eater and have won numerous other awards from local Austin publications, but the real proof is in the steady weekend crowd you'll find here. They make their own pastries (for sure try their chicken biscuit) and have really good coffee. But be sure you also try their cocktails!
Additionally, Better Half shares space with Hold Out Brewing, so you can head over there to keep up the day drinking after brunch.
If you want to wander around afterward, Better Half is close to Bar Peached (a fun bar/restaurant with a great patio), Mean Eyed Cat for a dive bar feel, or walk over to The Tiniest Bar In Texas.
4. Banger's Sausage House and Beer Garden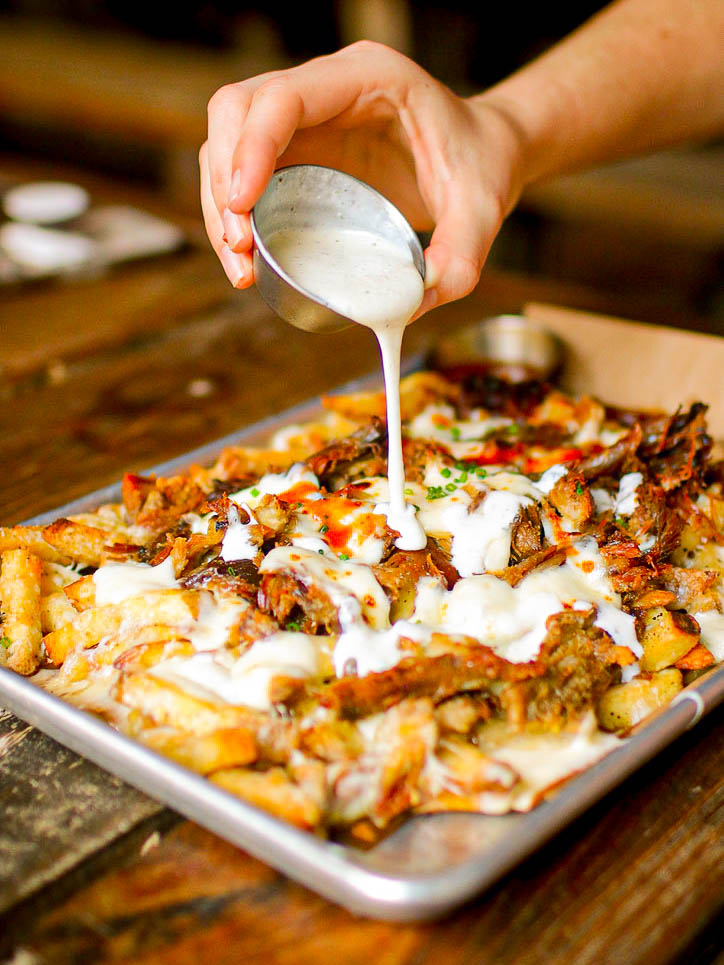 Located on Rainey Street, Banger's is really close to downtown Austin and the perfect place to enjoy a Sunday morning brunch. They have the largest beer tap wall in the city of Austin, an epic outdoor Biergarten with long rows of tables for big groups, and one of the most insanely delicious brunch menus in Austin. Try the Banger's Benny with braised pork belly or the huge pancake platter with sausage links and shoestring fries.
Note no reservations here, but you can order drinks while you're waiting for a table.
If you want a beautiful spot in downtown Austin where you can enjoy a café brunch and handcrafted cocktails, consider Forthright. It's in a prime location right by Lady Bird Lake and walking distance from nearly any downtown hotel. It's slightly more sophisticated than some of the beer gardens and bakeries we've mentioned thus far.
Start with a delicious cappuccino (they have a great coffee program here) or a specialty drink, like their spiced lavender chai latte. Order some of their homemade cinnamon rolls for the table, and then try one of their classic brunch plates: chicken and waffles, pastrami hash, and brioche french toast are all delicious. Forthright also makes amazing brunch cocktails. "A Shot of Morning Clarity" (their take on a clear Bloody Mary) is just what you need after a Saturday night out on the town.
Fareground is Austin's epic food hall, located in the middle of downtown. There are multiple food booths and bars where guests can walk up to order food before finding their own seats. Since it's a seat-yourself situation, it's a great place for a big group to gather.
DRINK, a central bar at the food hall, offers $5 mimosas and Bloody Mary cocktails, and you can order your food ahead online if you're in a hurry. Fareground definitely wins for local Austin food served in a convenient way for a large group of foodies.
Wu Chow's dim sum brunch is a wonderful spot to go for a big group brunch in downtown Austin. Reserve ahead of time and you'll be able to seat a large group indoors (or outside on their patio) to enjoy small plates of dumplings, potstickers, scallion pancakes, and more.
This West 5th Street restaurant featured a full bar including specialty cocktails, wines by the glass, and beer. After brunch, walk to Little Woodrow's and Star Bar for some day drinking. Photo via Wu Chow Facebook.
It's hard to find a place that feels more iconically "Austin" than Irene's. Tucked in between the high rise towers of downtown, Irene's is casual, funky, and totally photogenic. If "boozy group brunch" is on your weekend wish list, the $6 bloody marys, mimosas, and frosé will check that box.
Their brunch menu is exactly what you want to accompany all that booze: biscuits and gravy, chilaquiles, a brunch grilled cheese with maple-glazed smoked bacon, or creamy grits with a scotch egg. They take reservations for large groups of 10+, but otherwise you should just be able to walk in.
Sour Duck Market is a sister restaurant to Odd Duck (one of the most popular farm-to-table restaurants in Austin), and it's a great spot for an Austin brunch for a big group. They have a big outdoor space with picnic tables and a gravel floor, and to order food you just scan the QR code and someone will bring you the food. Everyone has their own tab on their phone, so no need to split checks or anything like that.
We have a pretty epic list of Austin happy hours to help you find really good food + drinks in Austin at discounted prices. Check it out here!
This post is part of the Austin Food Bloggers Alliance City Guide! To see more guides to the ATX food scene, click here.