Austin Bats: Here's Exactly How To See Them!
The Austin Bats are the largest urban colony of bats in the WORLD! So yes, if you're visiting Austin Texas, you absolutely must go see the bats emerging from the Congress bridge. It's actually very, very cool. What's the best way to see the Austin bats? 
It's pretty simple. They sleep all day under the Congress bridge, and as soon as the sun sets, hundreds of thousands of bats start flying out to go feed on insects around the city of Austin. All you have to do is show up at the Congress bridge (you can stand on the bridge, stand under the bridge, or book a boat tour on the water) and watch the show…and it's free! Ever wondered why Austin Texas is known for bats? It's because of this bridge! 
However, if you're planning a trip to see the Austin bats and you want to make sure you've double-checked every detail, here are a few more helpful things to know about seeing the Austin bats.
Quick Facts About The Austin Bats
They'll eat between 10,000 and 30,000 pounds of insects

every single night

. That's a huge help to the city of Austin!

Mostly mama bats and their pups live under the bridge. The males will roost on the sides of buildings. 

There are 1.5 million bats living under the Congress Bridge in Austin

The bridge's alcoves create the ideal hiding place for the bats
When Do The Austin Bats Come Out?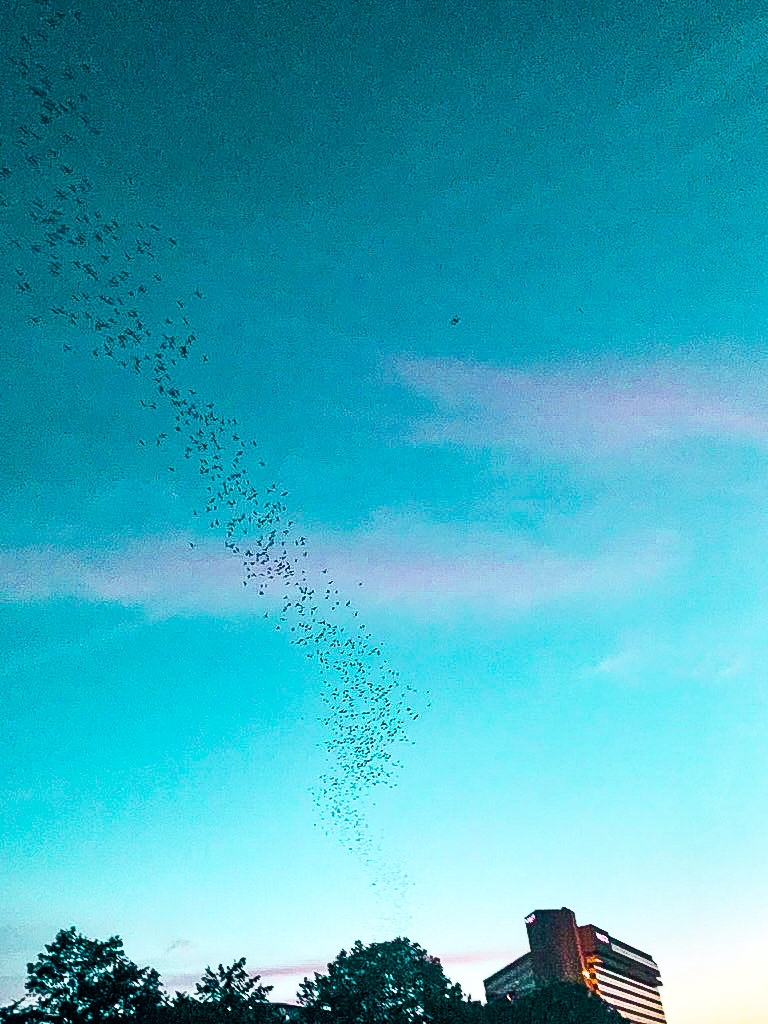 The Austin bats come out from mid-March through late October or early November. There aren't specific dates, because it depends on the weather and the sunset time, but basically every night during Daylight savings Time you can expect to see the Austin bats emerging. So cool. 
Do the bats come out every night? Yep, every night from mid-March through late October. The best viewing month is typically late July. 
Do bats come out in the rain? If there's just a drizzle, they might make an appearance. If there's a really big Texas rainstorm, like a summer thunderstorm, the bats won't come out. If it stops raining, they'll usually start flying about an hour after the rain stops. 
But other than that, the bats typically make an appearance every single night in Austin.
What Time Do The Austin Bats Appear?
At dusk. That time changes with the months, so check your weather app to see when the sunset is going to happen. The bats usually appear just after sunset. If you're visiting Austin during peak summer tourist season, you'll probably want to get to the Congress bridge early to reserve your spot. 
How to see the Austin bats:
See if they're there

Find a parking spot

Get a good spot! 

Book a river cruise, if you want

Wait until they emerge

Enjoy!
Where To Eat Near The Austin Bat Bridge
There are TONS of places to eat near the bat bridge! For starters, South Congress Avenue, which runs between Travis Heights and Bouldin Creek, serves as the main north/south road for South Austin and has some incredible restaurants on it that are within walking distance from the bats. There are also a couple of magnificent lakeside hotels that have restaurants with a view of the Austin Bat Bridge. And of course, getting some tacos at a nearby taco truck or walk-up window and then enjoying a picnic on the southern banks of the water (near the bride) is a great option. The bridge itself doesn't really have any great places to sit down, so you'll probably want to dine before or after viewing the bats. Here are a few options: 
Home Slice (South Congress)
One of Austin's most beloved pizza joints, Home Slice serves up New York-style pies, garlic rolls, and absolutely delicious sandwiches. If you can't get a table at the actual restaurant, head over to More Home Slice next door for takeout pizza and then just bring it to the bat observation area and enjoy your pizza while viewing the bats. If you're eating at Home Slice, there are both indoor and outdoor seating options. Or, place an order online and pick it up at the restaurant.
This Austin taco mini-chain has food trucks and restaurants all over the city, but the walk-up window located inside the LINE Hotel is the perfect spot for folks who want to see the Austin bats. Order tacos (get there early during the peak of tourist season in July!) and then bring them down to the grassy area on the south side of the Congress bridge for a little picnic. 
Little Brother Coffee & Kolaches
This tiny little coffee and kolache booth on South Congress is a great spot to pick up some snacks. While the Rainey St location is a bar, this SOCO location focuses more on coffee and pastries. So if you need a caffeine pick-me-up, this is a great spot for you. There's a walk-up window where you can place your order.  
Perla's Seafood and Oyster Bar
Perla's Seafood and Oyster Bar are one of the most beautiful seafood restaurants in Austin. Located right in the heart of the South Congress district, they have a fantastic dinner menu with coastal cocktails and seafood sourced from the gulf. The beautiful patio at Perla's is a great place to dine after or before seeing the bats on the South Congress bridge.
P6, which is in a parking garage that was built in the 1960s, is the 6th floor of the parking garage that has been renovated into a lovely rooftop lounge for outdoor dining and drinking. You can sip on your cocktail while viewing Lady Bird Lake and the Congress Ave bat bridge. Their menu includes Mediterranean small plates and creative seasonal cocktails that pair nicely with the stunning Texas sunsets. Note: having a reservation here is highly recommended!
One of the very closest restaurants in Austin to the Congress bridge is Corner Restaurant, the in-house restaurant connected to the JW Marriott. They have fantastic Texan cuisine in a modern yet rustic setting. This restaurant is located at the intersection of 2nd and Congress, so it is so close to the bat bridge! Corner restaurant's patio bar is a very popular place for Austin tourists looking for downtown restaurants, so keep in mind that it typically gets pretty crowded on the weekends.
The sushi at this Japanese restaurant in South Congress is excellent. Lucky Robot emphasizes ethical and sustainable sourcing to do its best to protect our oceans. Their adorable outdoor sidewalk booths are a great place to dine on a nice evening. If you're dining indoors, see if you can get one of the tables with a swing! 
A modern American kitchen at The Four Seasons Hotel, Ciclo (Spanish for "cycle"), offers diners a view of Lady Bird Lake. This restaurant was created in partnership with renowned chef and restaurateur Richard Sandoval. Aside from its regularly rotating dinner menu, Ciclo also offers breakfast, lunch, and brunch, all of which include gluten-free and vegan options. Ciclo is situated on the lake level of the Four Seasons Hotel Austin.
Dean's Italian Steakhouse
Need a steak dinner near the bat bridge? Dean's is an American steakhouse restaurant in downtown Austin. They offer prime cuts of beef, like Texan and Japanese A5 Wagyu, as well as authentic house-made pasta, a raw bar, and market-fresh seafood. Oh, and their happy hour is worth checking out! Every weekday from 5 to 6:30 pm, they offer a happy hour on The Veranda at Dean's, a beautiful outdoor area with patio seating.
Arlo Grey By Kristen Kish
Arlo Grey is a lakeside eatery in downtown Austin opened by Top Chef champion Kristen Kish. Kish's culinary style combines technical training and skill steeped in French and Italian traditions with nostalgia for recipes from her background, her travels around the world, and her study of the abundant ingredients of Central Texas. Be sure to make reservations in advance. 
ATX Cocina is a stunning modern Mexican restaurant in the heart of downtown Austin. They use a combination of contemporary and traditional methods to serve their Mexican cuisine (which is 100% gluten-free, we might add!). Try their refreshing cocktails, their incredible masa that is nixtamalized and processed in-house using Mexican small-family farmers' heirloom maize types, and larger Mexican food entrees like fajitas and seafood.
At the JW Marriott Austin, Edge Rooftop + Bar offers evening lounge vibes with cold beverages…all while seeing the beauty of Congress. Edge is very close to the bat bridge, so after you've seen the bats emerge and you're ready for a nightcap, head up to this luxurious rooftop lounge for some cocktails and small bites.
CRÚ Food & Wine Bar - 2nd Street (Downtown Austin)
Before or after watching the Austin bats at the Congress bridge, you and your friends or family can get a bottle of wine at Cru Wine Bar on 2nd Street in Downtown Austin. They have a lot of delicious entrees, like wagyu meatballs, stone-fired pizzas, cast iron seared jumbo shrimp scampi, and short ribs with risotto.
In the mood for a rooftop bar in Austin? Zanzibar is a lush tropical oasis with a pool, a restaurant, and spectacular views of downtown Austin. It's about four blocks away from the Congress bridge, but the walk is totally worth it for the tiki cocktails and island-inspired dishes. 
Austin's own downtown food hall has multiple food booths from well-known Austin chefs, two bars, and indoor and outdoor dining. It's open until 9 pm every evening, so you can stop by for dinner before or after viewing the bats. And if you want an afternoon beverage, they have a happy hour at the bar.  
Taverna - Downtown Austin
Taverna is an Italian restaurant in downtown Austin with incredible pasta, pizza, and Italian favorites. It feels like a neighborhood bistro…very charming and cozy. If you're dining in the summer months, be sure to grab a spot on their wraparound patio. They're known for their risotto (there's actually an entire section of the menu devoted to it!), and their signature risotto, topped with parmesan cheese and black truffle cream sauce, is what dreams are made of.
Where do the Austin bats migrate to?
The departure of the Austin bats is cyclical. Similar to birds, they go south for the winter. They travel to Mexico City and as far as the Yucatan every year before making their way back to Austin in the warmer months. You'll know they've returned to Austin for the summer when you hear that high-pitched, squeaking, and humming sound underneath the Congress bridge. Or, of course, when you see them emerge in the evening hours! 
Here's an interesting piece of trivia about the Austin bats: every spring, about 750,000 bats from the original population will return to Austin. The females are pregnant, and with all of those pups being born (a 50/50 gender mix) in the Congress Bridge, the entire population of Mexican free-tailed bats doubles to 1.5 million.
The baby bats will usually only stay for the first season of their lives. And the Mexican free-tailed male bats can be found in Austin, but they typically congregate in smaller groups of a few dozen to a hundred. They might be found on the sides of buildings or in other pockets around Austin.
What is the best time to see the bats in Austin?
If you really want to make sure the bats are already living and flying out in Austin, you might want to check with the bat tours. There are a lot of boats that offer tours, and they'll start as early as the bats decide to appear!  When the bats arrive, they start the tour season, and once bats migrate south, they also end the tours for the year. You can also look at online reviews of the bat bridge to see if anyone has left a review that they've seen the bats this year. Typically, July is the month with the highest number of bats under the bridge. But the bats will be around from about March - October.
During the first cold front, they'll leave Austin. This is usually in late October. And then they'll come back again the next year in early March. Of course, climate change means warmer and warmer temps in February, so sometimes the bats will start to show up even earlier in the year. It truly depends on the weather.
If you're wondering what time of day you should see the Austin bats, it's always in the evening. They emerge at dusk, so plan to see the Austin bats when the sun sets. If you want to make sure you don't miss the show, get there 30-60 minutes before sunset. 
Of course, the sun sets at various times throughout the year, so the bats' departure time can vary during the bat season from 7:30 PM to 9:00 PM. Just check your weather app and get to the bat bridge early to make sure you have a good viewing spot.
Does Austin Texas have "Bat Season?"
Kind of. While bats are always the symbol of Austin, the actual live bats live in Austin during the warm months of the year, from March - October. However, the pregnant mother bats give birth to their pups in early June. Those babies will be done nursing in late July or early August, so August is when you can see the entire 1.5 million bats fly out. So you could say that late summer is "bat season" in Austin. 
How many hours will the bats fly at night in Austin?
The "first wave" of bats leaving the Congress bridge's openings to hunt for flying insects (moths, mosquitos, etc.) is the cloud of bats that everyone expects to see. But it may take two to three hours for all of the bats to emerge after this initial wave, which takes flight just before dusk.
Yes, bats can carry rabies, just like other mammals since they are living in the wild. So always use caution if you see one of them up close. Only .05% of them are actually susceptible to rabies, but it's better to just be safe. Never touch them, pick them up with your bare hands, or get too close to them if you see them land on the ground. 
If you see one fall to the ground, it's an extra reason not to touch it! If it fell to the ground, it means it's sick and can't fly well. That means something might be wrong with it, so use extra caution to keep clear of that bat in case it's infected with rabies. Just admire them from a distance!
If a bat falls to the ground, it needs to be removed by animal control. So if you do happen to see one, just contact animal control ASAP.  
How Far do the Austin bats fly every night?
Every night, the bats fly out and hunt along the tree canopies of the Colorado River. They always head east toward east Austin farmland to find their favorite moths. But since they don't stick together, no one knows exactly how far they go!  But they can fly about 30 miles in one go, reaching heights of up to 3,000 feet. A30-mile round-trip east of the Congress Bridge could easily allow the bats to get as far as the Austin-Bergstrom International Airport and back in a single night.
Since they can fly up to 99 mph, it wouldn't take them very long to fly 30 miles every night. 
They're pretty tiny! They weigh between .4 and .5 ounces, with the female bats being slightly heavier than the males (for extra fat storage during pregnancy.) They're about 3.5 inches long (9 cm), and half of their length is for their long tail. They have big ears, compressed muzzles, and long, pointy wings that help them with their swift and direct flight patterns.  
These Congress bridge bats are also amazingly effective pest controllers. Austin's colony consumes 10,000 to 30,000 pounds of insects, such as moths and mosquitoes, every single night. We're incredibly thankful for them!
While there are bigger colonies of bats living in Texas (there's a HUGE colony of 15 million bats in Bracken Cave in San Antonio), the Congress Ave bats in Austin are the largest urban colony in the world. It's pretty wild that these many bats live just a few steps from downtown Austin. The 100,000 visitors who stop by to see the bats every year think so, too. 
Do you love a good scare fest? Haunted houses are one of the most popular…
Read More