20 Things To Do In Austin In The Winter
The winter months are the best time to visit Austin if you want to avoid the crowds. Except for SXSW season in March, winter is a slightly quieter season in ATX. And even though January  and February aren't the most popular months here, there are still lots of things to do in Austin in the winter! (By the way, we recommend April-June or October-November for the most beautiful Austin weather.)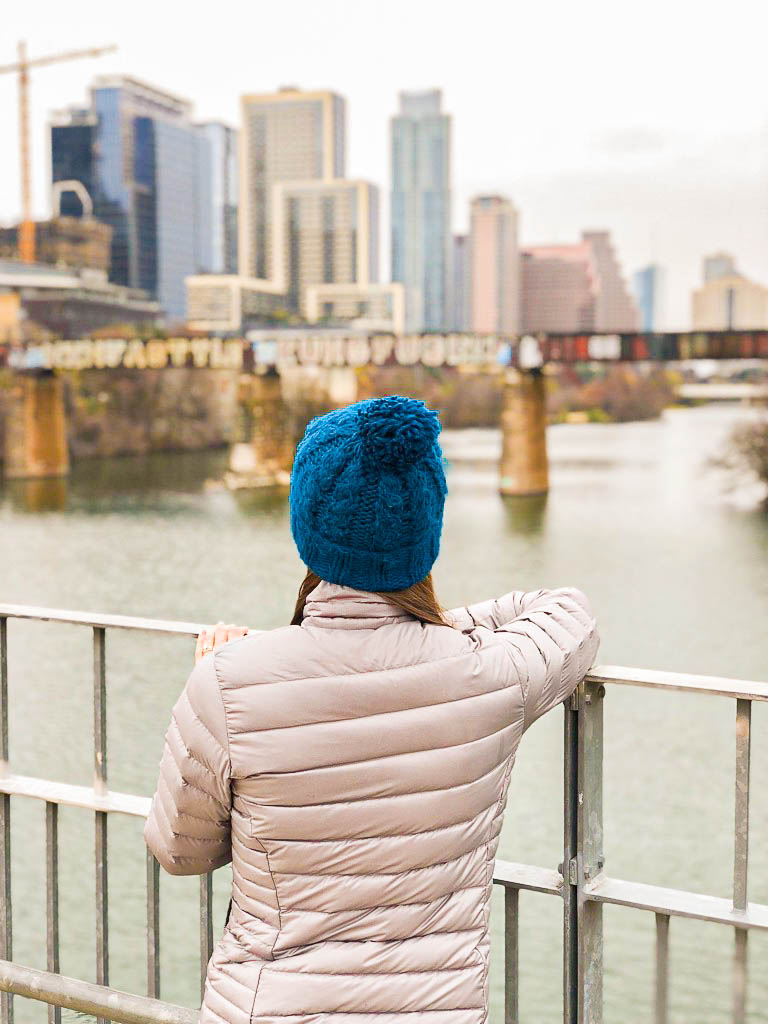 For some fun indoor activities in Austin (and a few outdoor ones, too!), here are 20 fun things to do in Austin in the winter:
20 Things To Do In Austin In The Winter

1. Go to Crux Climbing Center. You'll warm up in no time at all at this epic climbing gym in Austin! They have two locations, and they're both actually by really cool places to eat/drink in case you want to make a day of it.
The north/central location of Crux Climbing Center is next to the Brewtorium, an awesome Austin craft brewery that also has German-inspired food, and the south location of Crux is near Cosmic Coffee + Beer, which features a few really good Austin food trucks, beer, wine, and coffee.  |WEBSITE|
2. Walk Around Lady Bird Lake. Even in the winter months, the walking trail around Lady Bird Lake will be bustling with runners, bikers, strollers, and dogs. Park underneath the MoPac bridge (put 2101 Veterans Dr, Austin, TX 78703 in your maps) and enjoy a brisk walk with a view of downtown.
3. Stop for some tacos. Tacos taste great in Austin year-round, but a warm breakfast taco is especially delicious on a cold winter day. Here's a definitive guide to the 11 best breakfast tacos in Austin + a map so you can find one near you, fast.
4. Visit a cozy coffee shop that you've never tried. You'll find lots authentically Austin coffee shops on the east side. For instance, Cenote is in a renovated historic home, Flat Track shares a space with a bicycle shop, and Lazarus is a brewery/coffee shop combo with a big, cozy leather couch.  Stop by, cozy up with a latte, and enjoy a conversation or a good book. Here are 10 cool coffee shops in east Austin.
5. Go kayaking. Yep, you can go kayaking all winter long! If you're up for a little adventure and you're not afraid of getting a bit wet, head out on Lady Bird Lake near downtown. Rent one from Austin Kayak Tours.
6. Buy something from a local Austin boutique. There are lots of unique stores in Austin, but two to consider are Take Heart |WEBSITE| and Slow North |WEBSITE|.
(Note: South Congress used to be full of lots of local boutiques, but due to the massive growth in this city, SOCO is now lined with bigger national stores. Still fun! But if you want to shop at an Austin boutique, east Austin is your best bet.)
7. Try some Texas Barbecue. Those meat sweats will warm ya right up! Three of the best barbecue spots in Austin: Try Franklin (east Austin), Terry Blacks (south Austin), and Stiles Switch (north Austin).
8. Go visit a brewery. Austin is home to a huge number of local craft breweries. You can enjoy a cozy indoor space while you try a flight of delicious beer and food. Try visiting ABGB if you enjoy light German lagers, or Pinthouse if you want some delicious hoppy IPAs. Both of these breweries serve bomb pizza.
9. Go two-stepping at Broken Spoke. Don't know how to two step? They offer classes! This is one of the oldest and most iconic dance halls in Texas. It makes for a great evening activity in the winter months.
10. See a play at the ZACH. Get tickets and enjoy a play or a musical at the lovely ZACH in South Austin. It's one of the 10 oldest theatre companies in the country.
11. Hike the Barton Creek Greenbelt. Hiking in Austin in the winter is actually even more popular than hiking in the summer...it doesn't get too cold here in the winter months, so January hiking trips are where it's at. The cold weather will just keep you moving!
The Barton Creek Greenbelt trailhead that's located right here is a good place to start. And if you've already done that hike and need more ideas, here are 15 fun hiking trails in Austin + a map of where to find them.
12. Visit an Austin museum like The LBJ Presidential Library, the Bullock Texas State History Museum, or the Blanton Museum of Art. These are honestly the 11 best museums to check off your list in Austin, including museum free days where you can get in at no cost. 
13. Spend a day shopping at The Domain. It's an EPIC shopping destination in north Austin. While it is an outdoor mall, the stores are close together you don't need to be outside for very long at any point.
14. See the sunset at Mount Bonnell. That winter sun just looks extra beautiful setting behind the homes of west Austin. This "mountain" gives you the best view of the sunset in Austin. If you've already been to Mount Bonnell, here's a map of all of the other places you can watch the sunset in Austin. 
15. Get tickets to a live performance at The Paramount Theatre. From comedy to music to movies, there's always something interesting going on at this historic downtown Austin theatre.
16. See a movie at Alamo Drafthouse. There are few better things to do in Austin in the winter than cozy up with a chocolate porter and a bowl of popcorn and enjoy a movie.
17. Enjoy a rooftop bar happy hour before the sun sets. The popular rooftop bars in Austin won't be as crowded in the winter months! Go early (during happy hour) to enjoy the beautiful winter sun.
18. Visit Bull and Bowl for some happy hour and bowling. This is a fun Austin indoor spot in the winter where you can get some happy hour drinks and bites and enjoy a game or two of bowling.
19. Go Shopping on South Congress. This is the most iconic shopping destination in Austin. You'll find international brands (Hermés, Everlane, Madewell) as well as a few local boutiques (By George) and amazing restaurants and coffee shops.
20. Swim in Barton Springs. Don't call us crazy - lots of people actually swim in this famous Austin spring in the winter months! The tourist crowds won't be there, so you can enjoy lots of space for a polar plunge or some heart-pumping laps at Barton Springs. (It's 68 degrees year-round.)
Since it's soooo dang entertaining and requires basically zero physical activity, Bingo is probably never…
Read More
You've done dinner and a movie a hundred times..…but what about some other fun date…
Read More